Space Ed
Columbia Space Initiative has partnered with NASA to launch a whole new era of educational opportunities for middle school students.
Nov 09 2023 | By Jennifer Ernst Beaudry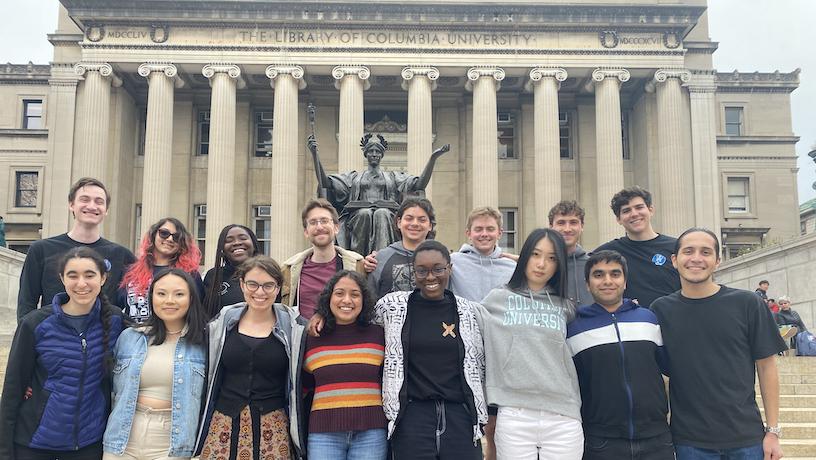 Columbia Engineering is going to space — and they're taking New York City school kids with them.
This spring, NASA announced that Columbia was one of eight universities whose proposal for sending a small satellite into orbit had been accepted. The launch opportunity is part of the institution's NASA CubeSat Launch Initiative (CSLI), which gives educational and nonprofit groups the opportunity to launch small research satellites into low Earth orbit from NASA or NASA partner spaceflights.
It's an incredible achievement for the Columbia Space Initiative (CSI), which oversaw the proposal and will oversee the mission as it develops. It's also a major step forward for CSI's outreach to New York middle school students from underserved communities. The CubeSat mission, or (CU)besat-1, will form the basis of a comprehensive engineering and rocketry curriculum that gives students a once-in-a-lifetime opportunity to study data from space, as well as a front row seat to everything it takes to get to launch. The project's official name is LIONESS, for the "Line Imaging Orbiter for Nanosatellite-Enabled Spectrographic Surveys."
"To be able to do this would be unheard of a few years ago," said CSI faculty adviser Mike Massimino, professor of professional practice in the Department of Mechanical Engineering at Columbia and former NASA astronaut.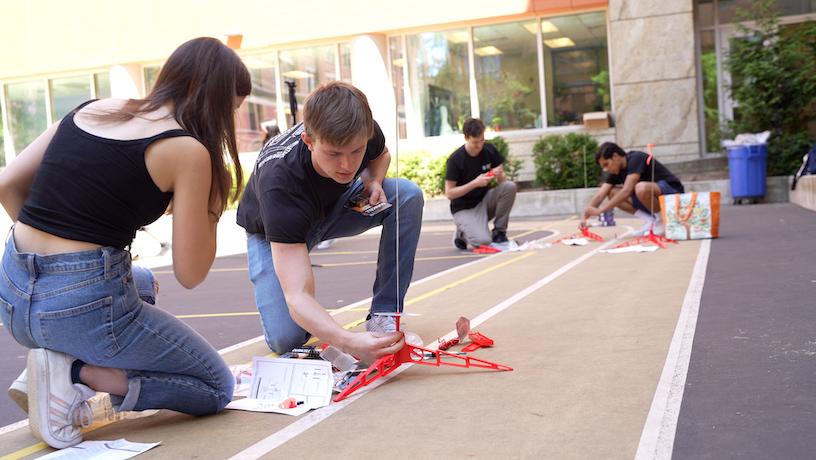 The (CU)besat-1 payload was inspired last summer, when Columbia Engineering senior Matthew Werneken, CubeSat co-lead and CSI co-president, was working with a group of undergraduates to size down the Circumgalactic Hydrogen-Alpha Spectrograph (CHaS) in the lab of astronomy professor David Schiminovich, co-director of the Columbia astrophysics laboratory. Former project co-lead and CSI co-president Bruno Rergis BS'23 was working on creating a CubeSat team, and Schiminovich pointed out abandoned materials from a 2018 launch attempt.
It became clear that the CHaS technology could be uniquely suited to use on a CubeSat — and could be an excellent fit for NASA's CSLI, which accepts proposals every August for CubeSat missions that advance the agency's education, science, and technology development. Schiminovich agreed to guide the incorporation of the novel payload as the principal investigator.
"Bruno had the idea to bring it back; I happened to find a scientific payload with astronomy research, and it evolved into a project," Werneken said.
The particular ask was for projects that were outreach-related and educational as part of the Educational Launch of Nanosatellites (ELaNa) missions facilitated by NASA's Launch Services Program (LSP), Werneken said, which CSI is uniquely positioned to deliver thanks to its existing middle school partnerships with Sophie Gerson Healthy Youth and with schools directly. While the CubeSat mission was already educational in that it would be teaching Columbia Engineering students, the CSI team saw even more potential— they could use the resulting device and the data it would record to advance one of CSI's outreach initiatives, bringing aerospace education to more than 500 students in underserved New York City middle schools.
"We took it to be a larger-scope outreach project for CSI and so that's how we developed it," Werneken said.
Last fall, Rergis and Werneken and a team of CSI members refined a proposal detailing how they would put the CHaS capabilities into a tiny (just under 4 inches, the expected size is about 10x10x40 cm) CubeSat. LIONESS was officially accepted in March as a fully-funded launch for sometime between 2024 and 2027; this summer, four interns on the mission worked in the University Nanosatellite Program to hone the technical skills the team will need to prepare the CubeSat for launch, which the team hopes will be in spring 2026. Two of the interns, Columbia Engineering junior Ines Khouider and senior David McIntosh, have stepped up as full project leads since Rergis' graduation from Columbia in May.
Taking outer space into the classroom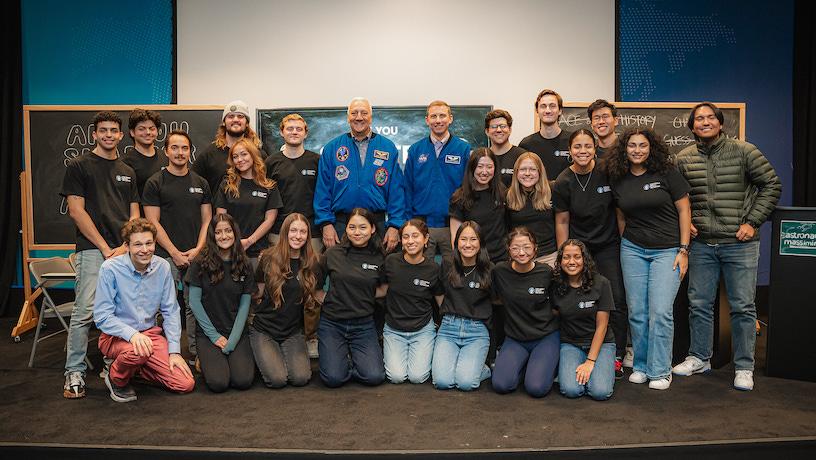 At the same time, the CSI Outreach team is hard at work developing the curriculum that will bring the CubeSat mission to life in the classroom in middle schools in the Bronx and the Lower East Side of New York.
According to William Lawrence Specht, a senior at the Engineering School and co-director of CSI Outreach, the team has already had to expand its scope.
"Currently the plan is creating a space unit that covers satellite design and manufacturing from the engineering side and the computer side that culminates in bringing members from the CubeSat team into schools," he said. "Our initial thoughts were we could do the entire thing in one year, but that's extended to at least a full next year, too. After launch, there will be real data we can collect about how galaxies are formed, and so perhaps there's an entire curriculum for a year after that."
According to Kristian Breton, director of Columbia Engineering Outreach Programs, the impact projects like these have on partner schools is substantial.
"It's advantageous that CSI students are comfortable working with middle school students, because that's a real inflection point where those students are beginning to self-select out of STEM–programs like this keep them engaged and excited about what they can do in the field," he said.
Projects like the CubeSat launch, he added, take CSI's already engaging middle school efforts and turbocharge them.
"CSI members are not just ambitious when it comes to rocket competitions, they're ambitious about working with underserved students."
Werneken said the learning flows both ways: As CSI builds on its existing strength in rocketry, developing the curriculum and working in the schools will reinforce the team's growing strength in satellite engineering.
"We've spoken frequently about how teaching the things we're learning is a better way of instilling that knowledge in ourselves," he said.
Ultimately, Massimino said, the LIONESS is the best of what CSI has to offer.
"They're hardworking, bright people, and what they're doing is not just in space," he said. "They're conducting research which improves life on earth, which is what the space program is about."