Head of the Class
May 14 2014 | By Melanie A. Farmer | In less than a week, the graduating Class of 2014 will become familiar with two of their fellow classmates who are at the top of their class.
In less than a week, the graduating Class of 2014 will become familiar with two of their fellow classmates who are at the top of their class: Valedictorian Alden Quimby and Salutatorian Halvard Lange. Quimby is set to deliver the traditional valedictory speech during the Class Day program, no doubt wishing his fellow classmates good luck and much success in their future endeavors. In this informal Q-and-A, we learn a little bit more—call them 'fun facts'—about these two outstanding graduates, from their favorite professors and favorite classes to what inspires them the most.
Alden Quimby, Valedictorian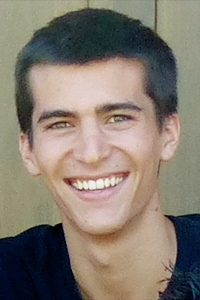 Major: Computer Science, minor in Economics
Hometown: Lee, NH
Favorite place to study: Uris. I wish they would open it up to Engineering students during finals!
Hobbies: Basketball, running (I am currently training for my first marathon), reading tech blogs, and making my way down the list of BYOB restaurants in the City
Favorite dining hall: John Jay. I was swept off my feet as a freshman by the cereal selection.
Senior Design Project: Using social media to detect foodborne illness outbreaks in New York City for the Department of Health and Mental Hygiene
Favorite professor: Stephen Edwards. I absolutely loved Programming Languages & Translators.
Favorite CORE class: It's a tie between ArtHum and East Asian Civ. I never thought I would be excited to go to museums or to read Confucius, but Columbia has that effect on people.
Inspiration: Elon Musk. [That was a] pretty incredible bet he made on SpaceX. Can't wait for him to take us all to Mars!
Words to Live By: Either you run the day or the day runs you.
Halvard Lange, Salutatorian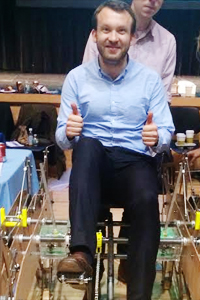 Major: Mechanical Engineering
Hometown: Oslo, Norway
Favorite class: Senior Design. Although theoretical classes make up the bread and butter of the engineering degree, making an actual product using all our engineering knowledge was what I enjoyed the most.
Senior Design Project: A pedal-powered Strandbeest inspired by the work of Dutch kinetic sculptor, Theo Jansen. It was a purely mechanical project, involving over 1,500 parts, and my team and I had to custom make over 400 of them. To design, analyze, and manufacture a product of your choice together with four awesome friends—Ben Aguilar, Eric Laukkanen, Charlie Mackenzie-Smith, and Regina Zmuidzinas—was an incredible experience. I am grateful I got to work with such a talented group of people.
Favorite place to study: It's a draw between NoCo [Northwest Corner Building] and the steps of Low.
Hobbies: Run, play squash, explore NYC, hang out with friends, and drink good beer and wine, preferably with my good friends
Words to Live By: None of us is as smart as all of us.
Dream job: After taking Intro to Human Spaceflight with Mike Massimino, being an astronaut is definitely on the top of my list. It would be awesome to float around in a microgravity environment, see the Earth from the cupola at the ISS, and do research in space.
Favorite professor: I would rather say favorite educator—Bob Stark. He always has a smile on his face and will help you, no matter what. I wish every Columbia Engineering student had a chance to interact with him and the rest of the staff in the Mechanical Engineering Lab during their time at Columbia.
What's Next: I'm finishing my master's in mechanical engineering at Columbia in December. Then, I'm planning on staying in New York until the summer before I move back to Norway, unless, of course, NASA recruits me and wants me to go to the ISS.