Columbia Mourns the Passing of Anna Kazanjian Longobardo '49, '52
Dec 10 2020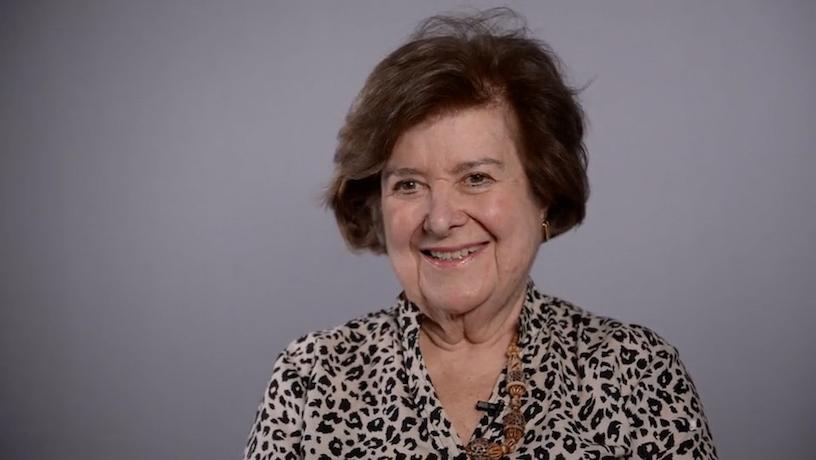 Columbia Engineering alum and advocate for women in engineering, Anna Kazanjian Longobardo '49, '52, passed away on December 7, 2020.
A longtime advisor and supporter of Columbia University and Columbia Engineering, Longobardo made significant contributions to the field of aerospace engineering.
Born in New York City in 1928, Longobardo's pioneering career spanned a series of "firsts": she was the first woman to receive a BS in mechanical engineering from Columbia in 1949—after attending a pre-engineering program at Barnard—and went on to obtain her MS with honors from Columbia Engineering in 1952. She was also the first woman to head the Engineering Alumni Association, the first woman president of the University's Alumni Federation, and the first woman chairman of the Columbia Engineering Council, now the Board of Visitors. In 1997, she was the first woman to receive the Egleston Medal, the engineering school's highest accolade for distinguished engineering achievement.
While still an undergraduate, Longobardo was a founding member of the Society of Women Engineers (SWE) chapter at Columbia and continued to advocate for and inspire women in engineering throughout her life. She was elected a Fellow by SWE in 1991.
Early in her career, Longobardo worked as a systems engineer for American Bosch Arma Corporation for 15 years, during which time she was a project manager in Key West with the Naval Ordinance Unit. Here she did groundbreaking work, ultimately developing technology to increase navigational accuracy for submarines operating below periscope depth. In 1965, she joined Unisys, the global information technology company, where she held several technology management positions and developed navigational systems for the aviation industry, including the "Saturn" missile, the "Viking" space system, and the "Atlas" project. She served as program manager for Air Force programs developing radiation-tolerant computers and projects for the Federal Highway Administration and the Defense Department. Her guidelines for the flight of ballistic systems in 1957 were used by NASA two years later to launch several satellites.
Throughout her career and after retirement, Longobardo generously donated her time to professional and educational causes close to her heart. She served on the New York State Women's Council, as Director of the Technical Societies Council of New York from 1966-1970, and was active in the American Society of Mechanical Engineers, the Joint Engineering Management Committee, the American Institute of Aeronautics and Astronautics, and the Society of Women Engineers. She also founded the Armenian National Science and Education Fund and was a board member of Woodward Clyde Group, Inc. A longtime resident of Bronxville, N.Y., she was on the Planning Board and chair of the Design review Committee.
Longobardo served as a Columbia University Trustee from 1990 to 1996 and was a member of the Executive Committee. She also served as chair of the External Advisory Board of the Department of Mechanical Engineering. For her efforts on behalf of the University, she received the Columbia University Alumni Medal for Service in 1980.
Columbia Engineers Share Their Stories - Anna Longobardo