Columbia University Celebrates 20 Years of 2Train Robotics
Jul 08 2020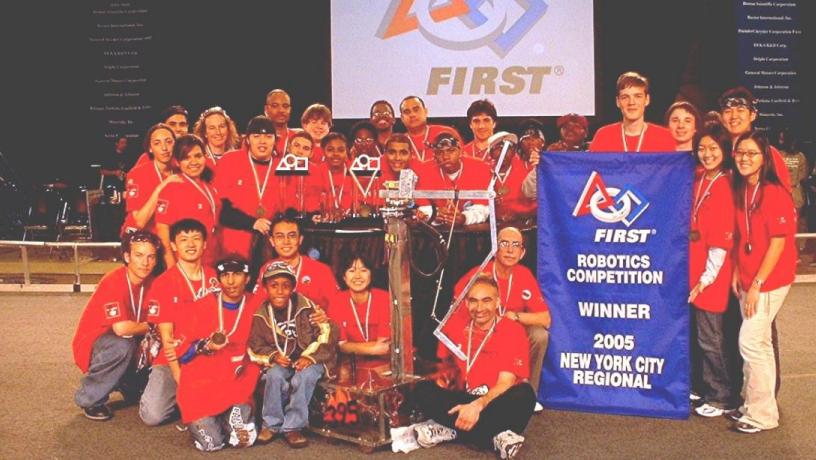 Columbia University's Fu Foundation School of Engineering and Applied Sciences is proud to celebrate 20 years of talent, ingenuity and perseverance of 2Train Robotics, a student organization created as part of the FIRST Robotics Competition. Named for the subway line that connects the Bronx to Manhattan, the 2Train team travels several days a week to the Columbia's Department of Mechanical Engineering Lab to design and build a robot with the support of Columbia student mentors, staff, professional engineers and former FIRST Robotics team members. In this high-tech, collaborative environment, students are exposed to the wonders of technological innovation and develop valuable decision-making and problem-solving skills that last a lifetime.
FIRST (For Inspiration and Recognition of Science and Technology) Robotics is the brainchild of inventor and entrepreneur Dean Kamen, president of DEKA Research & Development, who created FIRST in 1989 to inspire students to pursue further studies and careers in STEM fields.
Gary Israel, a former teacher at Morris High School, brought the FIRST Robotics program to the school in 1999 to engage students in science and technology at a time when the South Bronx was the poorest urban Congressional District in the United States. Today, the school's demographic composition consists of almost entirely Hispanic and African American students, and all students qualify for free or reduced price lunch.
Although 2Train was founded at Morris High School, it has always had an open door policy, allowing students from other regional schools to join the team. 2Train currently has students from Columbia Secondary School, Inwood Early College, NY Harbor School and Long Island City High School. Since its inception, 2Train has provided students with opportunities to pursue interests in science, technology, engineering, and mathematics (STEM), made possible by dedicated mentors and sponsors that include the New York Yankees, S&P Global, and Bloomberg.
"Beyond learning valuable technological skills, students on 2Train experience the positive results of teamwork, creativity, hard work and persistence," says Israel, who has served as Robotics Program Coordinator for the past 20 years. "Most importantly, these students discover that they can achieve great things when they apply themselves and through collaboration with others."
For Morris High School junior Demetrius Weathers, participation on 2Train has been nothing short of transformational. "I love the welcoming and friendly atmosphere of the lab, and the fact that we are building robots," says Weathers. "My involvement has helped me become more responsible and has made me feel like I'm a part of something bigger than myself. I hope to go to college and major in mechanical engineering or psychology, but right now my career is as fluid as water. I definitely hope to come back to mentor the team in the future."
2Train Robotics at Columbia University
Columbia University's Fu Foundation School of Engineering and Applied Sciences has been a longstanding supporter of FIRST Robotics, underscoring its commitment to educational outreach in the community. In 2001, Columbia hosted New York City's first-ever high school robotics contest at Levien Gymnasium, drawing 5,000 visitors to cheer 40 teams of students. In the early years of Team 395 (the team's official name), the team found a home at the Columbia Mechanical Engineering Undergraduate Lab where they design and build a robot to compete in the FIRST Robotics local, regional, and national competitions. Columbia also hosts the annual kickoff event that marks the start of the competition season.
"I find it incredibly fulfilling to mentor the 2Train team and watch many of these students continue on to STEM educations and careers," says Bob Stark, Columbia's Mechanical Engineering Undergraduate Lab Manager. "Involvement on the team inspires and empowers students to recognize their potential and gives them the confidence and tools to pursue their goals."
"Mentoring 2Train has been a tasking but constantly rewarding process," says Noah Silverstein, SEAS Class of 2022, who founded his FIRST robotics team in high school. "It is quite extraordinary to see students thrive in an environment rich with knowledge and experiences they would never have had access to without the team. These students are exposed to real-world time, budget, and knowledge constraints; they learn to work with their hands and think in three dimensions; they foster community and find friendship and comradery as they surmount shared challenges. As a mentor, I derive the greatest joy seeing our students have fun, learn and engage in the awesome world of robotics!"
"The 2Train team is a wonderful combination of racially and socioeconomically diverse students," says Delphine Eva Lepeintre, SEAS 2022, who also participated in her FIRST robotics high school team. "As mentors, we aim to foster personal growth and empowerment and to provide students with opportunities to develop organizational and communicative skills. I have especially enjoyed seeing some of the younger students gain the confidence to take on leadership roles."
Community outreach and education are top priorities for the 2Train team. Members mentor local elementary school students through the FIRST LEGO League Competition and at the Bronx Renaissance Youth Center, where 2Train piloted a highly successful technology and engineering program. Over the last 3 years, 2Train has participated in the Bronx Co-op City College and Career Fair to expose the community to FIRST Robotics and inspire youths to pursue college programs in STEM. The team also demonstrates their robot at the Children's Hospital at Montefiore and the Morris Lyfe Center.
The success of 2Train is evident in 20 years of stellar awards and accolades, including two NASA/FIRST Robotics grants (2001, 2002), multiple regional championships, engineering awards and industrial design awards. In 2004 the team received the FIRST Robotics Chairman's Award, the most prestigious FIRST award that honors a team that best embodies its purpose and goals. For the past 18 years, the New York Yankees has honored the team at Yankee Stadium. Additionally, four mentors have received the FIRST Robotics Woodie Flowers Award.
The 2019 Challenge: Destination Deep Space
Every year, FIRST Robotics announces a new challenge in January, followed by a six-week build season and preparation for local, regional and national competitions. This year's challenge, Destination Deep Space, has been particularly motivating for both mentors and students. "The fact that 2019 marks the 50th anniversary of the first moon landing makes for an exciting and inspiring game," says Israel. "The students can't help but feel that this game and this year's involvement in FIRST is something very different and special compared to previous years."
In March, 2Train was thrilled to win first place at the Central New York Regional in Utica. "The crux of our robot is an elevator that can bring the robot up and down," explains Lepeintre. "Our robot broke down early on, and everything that could have gone wrong went wrong, so by the end of the qualification stage we were ranked last place."
"However, due to the team's responsiveness, resilience in working out mechanical challenges, and the strategic coaching and in-game flexibility of our driving team, we proved to be perhaps the best defensive robot at the competition," adds Silverstein. "It was no surprise to me that the first place team selected our team to join their alliance of three teams, and we made it to the finals and won first place out of 31 teams."
"Winning the Central New York Regional was an incredible experience," says Weathers, who was named Dean's List Finalist at the event. "We went from being statistically the worst robot at the tournament to getting picked to join a top alliance and proceeding to win. This was the first regional competition that the team had won in a while, and the first one that I've experienced. It was absolutely amazing!"
On April 7th and 8th, 2Train Robotics competed with 51 other teams in the New York City Regionals which was held at the New York Armory.
"We arrived full steam ahead, with a completely redesigned game piece manipulator mechanism," explains Silverstein. "Through the very hard work of our students, we retrofitted the new design and found our bot to be more effective than it had ever been. We were scoring at least four to five times as many game pieces as we had before, and we were also able to begin using our autonomous routines, allowing our code to do some of the work."
"Objectively, the robot was a far more competent device," continues Silverstein. "However, through a series of unfortunate circumstances and unfavorable ref calls, we were unable to continue playing past quarterfinals. While we were saddened to not have a greater chance to show off our new prowess, we were overjoyed to have progressed so far!"
"I was really proud of how our team performed, both in terms of the robot's technical improvements and in our strategy and driving in the matches," says Lepeintre. "Also, our team won the Autonomous award, which celebrates the team that has demonstrated consistent, reliable high-performance robot operation during autonomously managed actions, and Gary Israel won the Woodie Flowers award, which is given to an outstanding mentor who leads and empowers their team like Gary has for the last 20 years."
At the end of April, FIRST Robotics will hold the World Championships, where Israel will compete for the Woodie Flowers award and Demetrius Weathers, who was selected as a Dean's List Finalist at the Central New York Regional, will compete for the FIRST Robotics Competition Dean's List Award.
2Train Embarks on a Sustainable Future
The sustainability of FIRST and of STEM education in New York is the primary concern of 2Train Robotics as they look forward to the next twenty years.
"We have plans to not only expand our membership in the robotics program, but to broaden opportunities for students to participate in activities outside the lab," says Israel. "We're encourage students to contribute all kinds of skills, such as programming, electronics, metalworking, graphic design, web creation, videography and public speaking."
"The 2Train team is special because although the robot is important, everything besides the robot is equally as important," says Lepeintre. "We want to give students more opportunities for leadership and participation in all of the non-technical activities that are integral to the team, such as marketing, PR, and mentoring younger children in elementary and middle schools and our outreach programs."
"One of the team's key initiatives is to incorporate as a 501c3 non-profit association, which would enable the team to welcome students from schools throughout New York City, particularly those of lower income, at-risk, or minority backgrounds, who do not have access to STEM," says Lepeintre. "Another exciting goal is to build a humanoid robot with the Yankees and have the robot pitch at one of their opening games."
"I am truly excited about the future of 2Train Robotics," says Silverstein. "I see the future of the team as a genuine community-based organization, one that welcomes students from many schools, demographics, and backgrounds."
2Train Robotics 20th Anniversary Celebration
Columbia University is hosting the 2Train Robotics 20th Anniversary Celebration Luncheon on Saturday, May 4th at Alfred Lerner Center. For more information about the luncheon or to RSVP email [email protected]