Star Sailor
In an April 21 Extreme Engineering talk hosted by Columbia Engineering, GHO President Greg Olsen discussed his remarkable journey from "entrepreneurship to spaceship."
May 06 2016 | By Jesse Adams
In fall 2005, decades after failing high school trigonometry and being branded a juvenile delinquent, engineer and entrepreneur Greg Olsen became the third-ever civilian to orbit the Earth aboard the International Space Station (ISS). In an April 21 Extreme Engineering talk hosted by Columbia Engineering, Olsen discussed his remarkable journey from "entrepreneurship to spaceship" or, he joked, "how I made my money and how I spent my money." He was introduced by former NASA astronaut and Professor of Professional Practice Mike Massimino.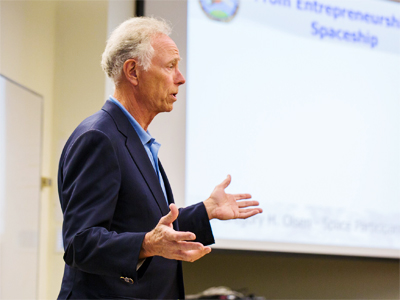 "The secret to life is not giving up," Olsen said. "It's not about the money or super-smarts, just your determination."
—Photo by Timothy Lee Photographers
Brooklyn-born and Jersey-raised, Olsen had been fascinated with transistors and radios growing up, and determinedly pursued physics, materials science, and electrical engineering before becoming a research scientist at RCA Labs. The holder of 12 patents and author of more than 100 technical papers, including one on the development of vapor-phase epitaxial crystal growth of optoelectronic devices like laser diodes, he then became an entrepreneur, founding EPITAXX, a manufacturer of fiber-optic detectors, and later Sensors Unlimited, a manufacturer of near-infrared cameras. He is now president of GHO Ventures in Princeton, NJ, with investments in next-generation transistors and a South African winery.
"Networking is the best skill you can get," Olsen said, recommending that young tech entrepreneurs apply for the federal government's Small Business Innovation Research (SBIR) program. "Hire people who are better than you—good managers work for their people, not vice versa."
In 2004, within months of learning that space travel had at last become accessible to private citizens, Olsen traveled halfway around the world to begin training with the Russian Space Agency. Then, within weeks, disaster struck. One of the medical tests he took showed a black spot on his lung. He was sent home immediately and, even when further tests indicated a clean bill of health, applied back again and again to no avail.
At last he was readmitted the next year, blasting off to space aboard a cramped Soyuz vessel at age 60 with two others. During almost 10 days in space, circling the Earth more than 150 times and logging nearly four million miles of weightless travel, he spent a week aboard the International Space Station and conducted several experiments in remote sensing.
"The best part of being in space is floating weightlessly," said Olsen, who estimated his self-funded trip added up to about $20 million. "Though your face gets red and puffy because all the blood stays in your head."
Through anecdotes and video footage, Olsen shared intimate details of his space voyage, from the weightless commode ("It's a small opening, you have to center yourself") to rations ("Some of the stuff wasn't bad, but you don't go into space for the food"), noting that the crew experienced 16 sunrises and sunsets every day in orbit.
"Reentry was the hardest part, rolling and tumbling through the atmosphere with no control," said Olsen to the audience of students, faculty, and space enthusiasts. "And you're dizzy when you're back in a weighted environment."
Olsen has written a book, By Any Means Necessary, and the capsule from his adventure is displayed at the Intrepid Sea, Air & Space Museum.
"The secret to life is not giving up," he said. "It's not about the money or super-smarts, just your determination."